Industrial site reclamation and tank remediation with "No man entry"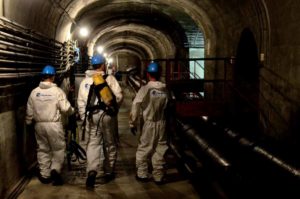 No Man Entry™ is the business school of thought which, through proprietary and patented technologies, aims at total operational safety in the industrial site reclamation sector.
Our success is based on the continuous communication between the staff in the field and the R&D department, forging services and cutting-edge technologies.
We can respond in a personalised way.
Activities on industrial sites
Remediation and restoration of AVIO fuel tanks according to international standards
Remediation of tanks for refineries (with Cow System technology)
Integrity test of oil and underground pipelines
Cleaning, video-inspection and restoration of underground pipes (with No-Dig techniques)
Restoration of underground pipes, fuel, water, wastewater, etc. (with Cipp Relining technology)
Quality and status test of the construction materials of plants and tanks
Remediation of reservoirs and underground tanks
Control and reclamation of confined, explosive and dangerous spaces (with "No Man Entry"™ technology)
Diagnostics and maintenance of underground tanks and pipes
Remediation and cleaning of tanks (with "No Man Entry"™ Bruco and Super Bruco technology)
Restoration by sandblasting and vitrification with No Man Entry ™ technology (FTM and Pavone)
Leak test (with Polifemo system and SDT technology)
Thickness survey (with "No Man Entry"™ Camaleonte and Ragno [Chameleon and Spider] technology)
Volumetric calibration (with certified technology)
Relining and transformation of tanks from single to double wall (with T12/double wall system)
Filtration (with Mini Cau system)
Inertisation (with low density foams)
Treatment of tank walls (with "No Man Entry"™ FTM and Pavone technology)
Well cleaning and rehabilitation
Volumetric reduction and repurposing of underground tanks
A2A Ambiente S.p.A.
Aeronautica Militare
Amsa S.p.A.
Api – anonima petroli italiana S.p.A.
ATAC S.p.A
Autogrill S.p.A.
E-Distribuzione S.p.A.
EG – Euro Garages S.p.A.
Enel Produzione S.p.A.
Eni Rewind S.p.A.
Eni S.p.A.
Esso Italiana S.r.l.
Finmeccanica S.p.A.
Hera S.p.A.
IES – Italiana Energia e Servizi S.p.A.
IP – Italiana Petroli S.p.A.
Italgas Reti S.p.A.
Jinzhou Qingdaofu Env. Co LTD
KRI S.p.A.
Kuwait Petroleum Italia S.p.A.
Leonardo S.p.A.
Lusochimica S.p.A.
Maserati S.p.A.
O-I Manufactoring Italia S.p.A.
Oliudreifing EHF
ONO Env. Holding Gmbh
Parco Viva Garda Zoological S.r.l.
Petronas Lubrificants Italy S.p.A.
PPG Industries S.r.l.
Raffineria di Gela S.p.A.
Rete Ferroviaria Italiana S.p.A.
Retitalia S.p.A.
Saras S.p.A.
Sarlux S.r.l.
Selex S.p.A.
Solvay S.p.A.
Stantec S.p.A.
Syndial S.p.A.
Tamoil S.p.A.
Tiesse S.p.A.
TIM S.p.A.
Totalerg S.p.A.
Trenitalia S.p.A.
Versalis S.p.A.
Whirpool S.p.A.
Wood Environment & Infr. Solution Inc.
CHINA
FRANCE
GERMANY
GREECE
ITALY
LIBYA
HOLLAND
POLAND
QATAR
ROMANIA
SLOVAKIA
TAIWAN
TURKEY
HUNGARY