Environmental engineering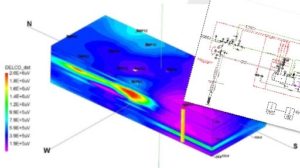 Through a team of highly specialised professionals, we offer consulting services in the fields of environmental and industrial remediation, decommissioning, waste management, water treatment and risk assessment.
Multidisciplinary skills allow us to offer an all-round consultancy on the environmental problems of industries and businesses, in Italy and abroad.
Following in-depth analyses and data processing, we develop tailor-made projects based on the needs of our customers.
Environmental technical consultancy
Drafting of investigation plans and environmental remediation
Industrial decommissioning design
Design of waste treatment platforms
Design of industrial process and TAF water treatment plants
Site-Specific Risk Analysis and Hydrogeological Modeling
Risk Assessment and Due Diligence for real estate transactions<
Engineering, Procurement, Construction/Management (EPC, EPCM) activities
AIA drafting and VIA studies
Permitting
Training
A2A Ambiente S.p.A.
Aeronautica Militare
Amsa S.p.A.
Api – anonima petroli italiana S.p.A.
ATAC S.p.A
Autogrill S.p.A.
E-Distribuzione S.p.A.
EG – Euro Garages S.p.A.
Enel Produzione S.p.A.
Eni Rewind S.p.A.
Eni S.p.A.
Esso Italiana S.r.l.
Finmeccanica S.p.A.
Hera S.p.A.
IES – Italiana Energia e Servizi S.p.A.
IP – Italiana Petroli S.p.A.
Italgas Reti S.p.A.
Jinzhou Qingdaofu Env. Co LTD
KRI S.p.A.
Kuwait Petroleum Italia S.p.A.
Leonardo S.p.A.
Lusochimica S.p.A.
Maserati S.p.A.
O-I Manufactoring Italia S.p.A.
Oliudreifing EHF
ONO Env. Holding Gmbh
Parco Viva Garda Zoological S.r.l.
Petronas Lubrificants Italy S.p.A.
PPG Industries S.r.l.
Raffineria di Gela S.p.A.
Rete Ferroviaria Italiana S.p.A.
Retitalia S.p.A.
Saras S.p.A.
Sarlux S.r.l.
Selex S.p.A.
Solvay S.p.A.
Stantec S.p.A.
Syndial S.p.A.
Tamoil S.p.A.
Tiesse S.p.A.
TIM S.p.A.
Totalerg S.p.A.
Trenitalia S.p.A.
Versalis S.p.A.
Whirpool S.p.A.
Wood Environment & Infr. Solution Inc.
CINA
FRANCIA
GERMANIA
GRECIA
ITALIA
LIBIA
OLANDA
POLONIA
QATAR
ROMANIA
SLOVACCHIA
TAIWAN
TURCHIA
UNGHERIA