Reclamation of contaminated sites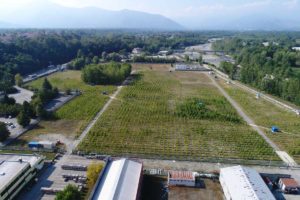 We follow our customers from the characterisation to the reclamation of the contaminated site up to the final certification, supporting them in the relationship with the Public Authorities and every phase of the administrative procedure.
We apply the best available technologies (BATNEEC – Best Available Technologies Not Entailing Excessive Costs), and we monitor the remediation trend with the most advanced analysis tools.
The intimate combination of advanced technology and highly specialised personnel positions us as the undisputed market leader. Thanks to the development of a solid working methodology, we manage projects in compliance with Legislative Decree no. 152 dated 3 April 2006.
Execution of environmental investigations for the environmental characterisation of the soil, subsoil and groundwater under Legislative Decree 152/2006 and Ministerial Decree 31/2015
Phase I and Phase II investigations according to ASTM E-1527, E-1903 standards
Execution of on-site pilot tests to define the best remediation technology to be applied
Drafting of Characterisation Plans, Site Specific Risk Analysis and Operational Projects for Remediation and Operational Safety
Construction, installation and operation of safety and remediation systems
Activities of permanent safety, capping, waterproof barriers, etc.
Field data processing for the development and management of monitoring plans
Supply of certified mobile laboratories for the execution of laboratory chemical analyses in the field with immediate response
Execution of exploratory excavations with means for Vacuum Drilling
A2A Ambiente S.p.A.
Aeronautica Militare
Amsa S.p.A.
Api – anonima petroli italiana S.p.A.
ATAC S.p.A
Autogrill S.p.A.
E-Distribuzione S.p.A.
EG – Euro Garages S.p.A.
Enel Produzione S.p.A.
Eni Rewind S.p.A.
Eni S.p.A.
Esso Italiana S.r.l.
Finmeccanica S.p.A.
Hera S.p.A.
IES – Italiana Energia e Servizi S.p.A.
IP – Italiana Petroli S.p.A.
Italgas Reti S.p.A.
Jinzhou Qingdaofu Env. Co LTD
KRI S.p.A.
Kuwait Petroleum Italia S.p.A.
Leonardo S.p.A.
Lusochimica S.p.A.
Maserati S.p.A.
O-I Manufactoring Italia S.p.A.
Oliudreifing EHF
ONO Env. Holding Gmbh
Parco Viva Garda Zoological S.r.l.
Petronas Lubrificants Italy S.p.A.
PPG Industries S.r.l.
Raffineria di Gela S.p.A.
Rete Ferroviaria Italiana S.p.A.
Retitalia S.p.A.
Saras S.p.A.
Sarlux S.r.l.
Selex S.p.A.
Solvay S.p.A.
Stantec S.p.A.
Syndial S.p.A.
Tamoil S.p.A.
Tiesse S.p.A.
TIM S.p.A.
Totalerg S.p.A.
Trenitalia S.p.A.
Versalis S.p.A.
Whirpool S.p.A.
Wood Environment & Infr. Solution Inc.
CINA
FRANCIA
GERMANIA
GRECIA
ITALIA
LIBIA
OLANDA
POLONIA
QATAR
ROMANIA
SLOVACCHIA
TAIWAN
TURCHIA
UNGHERIA