Decommissioning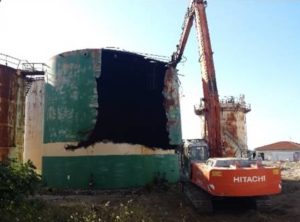 Our decades of experience in the conversion of industrial areas allows our customers to benefit from absolutely unique multidisciplinary skills.
Established over the years, our methodology ensures quality and safety standards of true excellence and guarantees impeccable coordination with all the partners involved, public bodies and control authorities.
Study and realisation of the Pick Out of materials to avoid mixing waste products
Design of demolitions, lifting plans, etc.
Determination of the register of equipment and resources needed
Evaluation of the volumes of waste produced, preparation of appropriate preliminary storage
Identification of areas of volumetric reduction of metals
Forecast of any mobile laboratories for waste recovery
Preliminary and site safety activities preparatory to the reclamation and demolition
Remediation of plants and tanks
Dismantling and removal of plants for the demolition of civil works
Possible reclamation of sites
Asbestos, both in compact and friable form, is often present in considerable quantities in industrial sites subject to decommissioning. Our strength lies in the ability to survey and map the presence of asbestos in industrial sites, design removal and disposal plans in full compliance with current legislation. All our activities guarantee traceability and certification of successful disposal.
A2A Ambiente S.p.A.
Aeronautica Militare
Amsa S.p.A.
Api – anonima petroli italiana S.p.A.
ATAC S.p.A
Autogrill S.p.A.
E-Distribuzione S.p.A.
EG – Euro Garages S.p.A.
Enel Produzione S.p.A.
Eni Rewind S.p.A.
Eni S.p.A.
Esso Italiana S.r.l.
Finmeccanica S.p.A.
Hera S.p.A.
IES – Italiana Energia e Servizi S.p.A.
IP – Italiana Petroli S.p.A.
Italgas Reti S.p.A.
Jinzhou Qingdaofu Env. Co LTD
KRI S.p.A.
Kuwait Petroleum Italia S.p.A.
Leonardo S.p.A.
Lusochimica S.p.A.
Maserati S.p.A.
O-I Manufactoring Italia S.p.A.
Oliudreifing EHF
ONO Env. Holding Gmbh
Parco Viva Garda Zoological S.r.l.
Petronas Lubrificants Italy S.p.A.
PPG Industries S.r.l.
Raffineria di Gela S.p.A.
Rete Ferroviaria Italiana S.p.A.
Retitalia S.p.A.
Saras S.p.A.
Sarlux S.r.l.
Selex S.p.A.
Solvay S.p.A.
Stantec S.p.A.
Syndial S.p.A.
Tamoil S.p.A.
Tiesse S.p.A.
TIM S.p.A.
Totalerg S.p.A.
Trenitalia S.p.A.
Versalis S.p.A.
Whirpool S.p.A.
Wood Environment & Infr. Solution Inc.
CINA
FRANCIA
GERMANIA
GRECIA
ITALIA
LIBIA
OLANDA
POLONIA
QATAR
ROMANIA
SLOVACCHIA
TAIWAN
TURCHIA
UNGHERIA