Environmental Emergency Response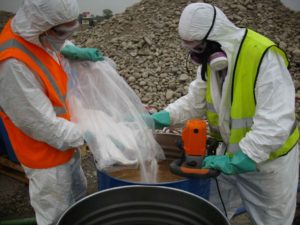 Our operational team can promptly intervene in the area in question 24/7 and 365 days a year.
Professionalism, speed and know-how are essential attributes for the safety of the site and the containment of environmental damage, to make the restoration process less onerous.
Toll-free number
800 017 292
Identification, analysis and elimination of the source of contamination guarantee the prompt neutralisation of environmental pollution and the protection of the customer. The complete understanding of every technical, legal, economic and relationship with Public Authorities makes our service the most complete in the sector.
A network of specialised partners
Our Headquarter constantly trains, qualifies, updates and coordinates a capillary network of operational teams specialised in the resolution of environmental incidents and equipped with modern and specific equipment for Environmental Emergency Response.
CINA
FRANCIA
GERMANIA
GRECIA
ITALIA
LIBIA
OLANDA
POLONIA
QATAR
ROMANIA
SLOVACCHIA
TAIWAN
TURCHIA
UNGHERIA
A2A Ambiente S.p.A.
Aeronautica Militare
Amsa S.p.A.
Api – anonima petroli italiana S.p.A.
ATAC S.p.A
Autogrill S.p.A.
E-Distribuzione S.p.A.
EG – Euro Garages S.p.A.
Enel Produzione S.p.A.
Eni Rewind S.p.A.
Eni S.p.A.
Esso Italiana S.r.l.
Finmeccanica S.p.A.
Hera S.p.A.
IES – Italiana Energia e Servizi S.p.A.
IP – Italiana Petroli S.p.A.
Italgas Reti S.p.A.
Jinzhou Qingdaofu Env. Co LTD
KRI S.p.A.
Kuwait Petroleum Italia S.p.A.
Leonardo S.p.A.
Lusochimica S.p.A.
Maserati S.p.A.
O-I Manufactoring Italia S.p.A.
Oliudreifing EHF
ONO Env. Holding Gmbh
Parco Viva Garda Zoological S.r.l.
Petronas Lubrificants Italy S.p.A.
PPG Industries S.r.l.
Raffineria di Gela S.p.A.
Rete Ferroviaria Italiana S.p.A.
Retitalia S.p.A.
Saras S.p.A.
Sarlux S.r.l.
Selex S.p.A.
Solvay S.p.A.
Stantec S.p.A.
Syndial S.p.A.
Tamoil S.p.A.
Tiesse S.p.A.
TIM S.p.A.
Totalerg S.p.A.
Trenitalia S.p.A.
Versalis S.p.A.
Whirpool S.p.A.
Wood Environment & Infr. Solution Inc.